Top Stories
Lawrence Bishnoi admits had planned to kill Moosewala; but executed by his gang members | Chandigarh News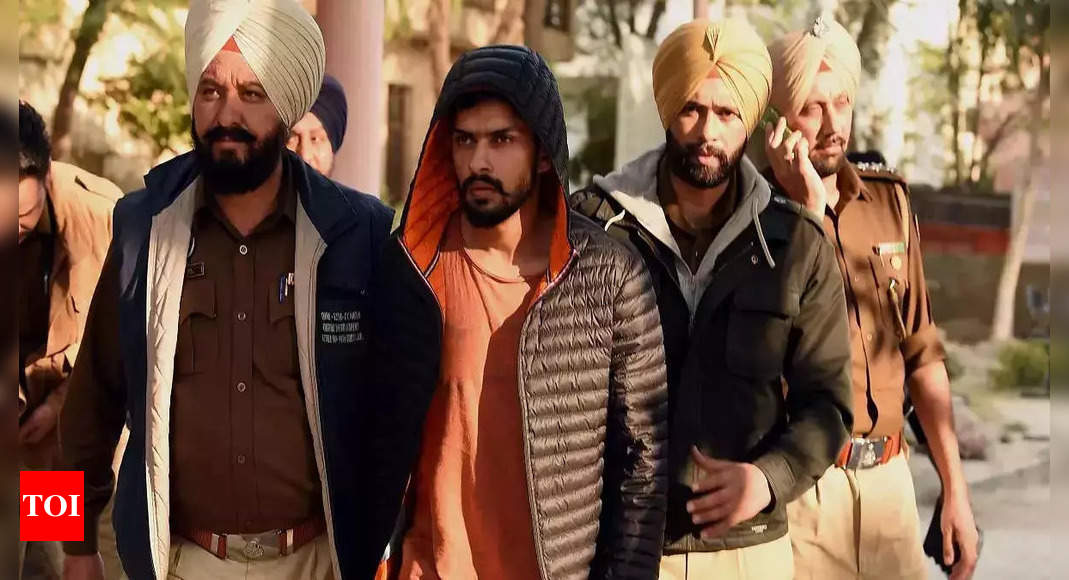 During the interrogation, Lawrence Bishnoi confessed that he had planned to kill Sidhu Moosewala to avenge the death of Vicky Middukhera.
MOHALI: The Special Investigation Team (SIT) led by AIG Gurmeet Singh Chauhan along with Mansa SSP Gaurav Toora and AGTS DSP Bikram Singh Brar grilled gangster Lawrence Bishnoi for five hours here on Friday at CIA Mohali.
During the interrogation, Lawrence Bishnoi confessed that he had planned to kill Sidhu Moosewala to avenge the death of Vicky Middukhera and had also arranged to recce his movements but he is not aware of the persons who executed the killings, said the sources.
Sources further added that Bishnoi told SIT during interrogation that Middukhera was like his elder brother and his gang members also treated him as their brother. So, sources said that Bishnoi said that his gang members must have executed the plan to eliminate Moosewala and take revenge of Middukhera killing as they were also very sad over murder of Middukhera.
Sources in SIT said that Bishnoi also told that his gang members were also upset over the act of Moosewala to have helped his manager Shaganpreet Singh to escape to Australia.
Sources said that Bishoni made all these revelations when he was shown CTV footages, photographs and videos of the day and place where Moosewala was killed. He was shown the CCTV footages of vehicles following Moosewala and photos and videos of the spot after Moosewala was killed.
Bishnoi was also made to indentify the vehicles used in the crime. But Bishnoi maintained that he is not aware of the shooters who came to kill Moosewala.
SIT during the interrogation of Bishnoi and other arrested gangsters learnt that the weapons used in killing of Moosewala have been buried on the borders of Punjab and Haryana but police is yet to trace the place and recovered the weapons.
Police, however after identification of the four sharp shooters has already left for Uttar Pradesh to arrest them.
One gangster brought from Bihar
Punjab police has brought another gangster from Bihar identified as Mohammad Raza who is in the custody and is being interrogated for his links with Lawrence Bishnoi. Sources said that Rzaza will soon be brought to CIA Mohali to make him sit face-to-face with Bishnoi for further interrogation. Police is at present questioning Raza about his involvement and knowledge of Mossewala killing. Raza is aid to be extortion money collector for Bishnoi.
Police raiding hideouts in Haryana-UP-Bihar for 4 shooters
Punjab Police is at present conducting raids in hideouts in Haryana, UP and Bihar to arrest identified four sharp shooters Priyawant alias Fauji of Sonipat, Ankit of Sonipat, Mannu Khusa of Moga and Jagroop alias Roopa of Amritsar. Punjab police at present is all set to bring three more dreaded gangsters from Pune identified as Shooter Mahakal, Santosh Jadhav, Suryavanshi by June 20 as they have suspected involvement in Moosewala killing.
FOLLOW US ON SOCIAL MEDIA
FacebookTwitterInstagramKOO APPYOUTUBE